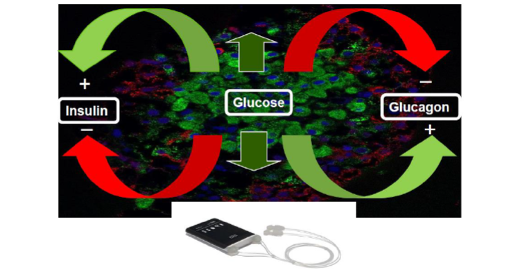 Dual-hormone artificial pancreas systems use insulin and glucagon to control glucose in patients with diabetes - a dream is about to come true
Insulin-only closed-loop AP systems hold promise for reducing the burden of diabetes self-management, but there is still potential for improvement regarding both hypoglycaemia and hyperglycaemia. A dual-hormone AP system achieves closed–loop glycaemic control by subcutaneous infusion of insulin and of glucagon in response to glucose values detected by a continuous glucose monitoring device mimicking the physiological pattern of insulin and glucagon secretion of a healthy pancreas more closely than an insulin infusion-only system.
To reverse the insulin action when blood glucose shows a tendency to fall, glucagon is given as mini-boluses to prevent and to treat any imminent hypoglycemia [1]. Glucagon leads to a rapid conversion of hepatic glycogen (the stored form of glucose) into glucose which is then released into the bloodstream. The comprehensive technology of control algorithms and hardware and the development of long-term stable glucagon formulations have so far provided some development challenges.