The Corona pandemic has shown the importance of scientific evidence when it comes to building trust in newly developed drugs given to millions of people. It has also highlighted the importance of managing and treating chronic diseases to improve the health outcomes of people affected by them. Diabetes poses a health threat of pandemic proportion to the worldwide population. It affects more than 415 million people and is among the leading death causes in the world. The fight against diabetes is still ongoing and Profil is proud to be playing a part in it.
Profil also presents its Science Reportthis year, documenting the scientific performance of the institute in the field of early phase clinical diabetes research. It is dedicated to the clinical validation of new drugs and devices for the benefit of people with metabolic disease such as diabetes, obesity, non-alcoholic fatty liver and cardiometabolic disease.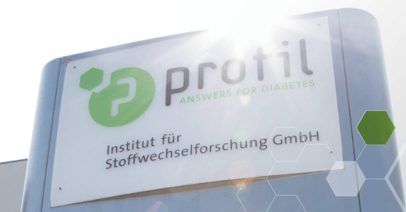 We are happy that our sponsors acknowledge Profil's scientific reputation and often go beyond commissioning a formal clinical study report (compliant with ICH E3 and ISO 81060-2:2018). Together with our sponsors, we prepare scientific presentations of their clinical trial outcomes in peer-reviewed journals, perform oral and poster presentations at international scientific symposia, and produce media contributions as well.
Together with our partners from industry, academia and non-university research institutions, we guarantee transparency of clinical trial results and their scientific interpretation and engage in dialogue with a wide range of stakeholders in diabetes care. This creates a high degree of trust not only among patients, but also among other stakeholders, such as diabetes care providers, expert associations and health insurers.

Figure 2

In the Science Report 2021, Profil co-founder Tim Heise, reflecting on Barack Obama's "What Science Can Do" speech, makes the following statement: "At Profil, we are proud of our contribution to the progress in diabetes therapy, as small as it might be. Vigorously testing new therapies and devices in clinical studies performed at highest quality standards and at ambitious timelines is our passion, and the positive feedback we get from our study participants with diabetes is a perseverative motivation to further improve our research and thereby eventually diabetes therapy."

In fact, the feedback from our study participants (who can be considered experts in their condition) is very motivating and further commits us, together with our sponsors, to go beyond existing solutions to create real added value for patients with diabetes and their loved ones. We work on providing a rigorous demonstration of safety and tolerability, an accurate understanding of the mode of action, and proof of therapeutic efficacy of investigational drugs and devices.

Have a look at Profil Science Reports 2021 , 2020 , 2019 and 2018 .
Read more about our expertise in testing medical technology: Insulin pump development and design, artificial pancreas study and the AP@home project, glucose monitoring.