Background
Over the past 150 years, average life expectancy has increased by approximately 4-5 years per generation. This is a tremendous advance for mankind and has contributed to economic growth and prosperity (OECD 2013). On the other hand, societal ageing challenges national economies, mainly through the burden it places on social and health care systems. However, the demographic development can be considered also as a great opportunity for implementation of smart, user-centered products and services that will add healthy life years and at the same time stabilise national economies.
By being a core partner at EIT Health Profil gets fully prepared to proactively boost its clients in taking their business opportunities arising from expected paradigm shifts in drug and medical device development under the conditions of an ageing society.
What's EIT Health?
EIT Health is a consortium of more than 100 European companies, research institutes and universities. EIT Health has been selected by the European Institute of Innovation and Technology (EIT) as the Knowledge and Innovation Community (KIC) for promotion of healthy living and active ageing of European citizens. With a total volume of EUR 2.1 billion EIT Health is one of the largest publicly funded initiatives for health worldwide. Over the next seven years EIT Health partners, such as Roche, Novo Nordisk, Sanofi, Air Liquide, Philips, Siemens, Profil, Intel, SAS, Nestle, TU München, Fraunhofer IIS, ETH Zürich, Karlsruhe Institut für Technologie, Max-Planck Gesellschaft, Deutsches Zentrum für Diabetesforschung, IESE Business School, Imperial College London, KU Leuven and Karolinska Institutet, will develop innovative products, education and services addressing the demographic change in Europe. EIT Health is currently chaired by Ursula Redeker, Spokesperson of the Executive Board at Roche Diagnostics Germany.
Profils' motivation to join EIT Health
By being a core partner of EIT Health we will contribute to finding new answers for people of all ages living with diabetes. EIT Health opens up new avenues for
extending our service portfolio in view of arising paradigm shifts in the evaluation, licensing and reimbursement of drugs and devices
shaping the overall conditions for the development and marketing of people-centered health products in concert with our clients and others involved in EIT Health,
establishing new businesses dedicated to the sustainable implementation of anti-obesogenic behaviours, as well as individualised innovations for metabolic health, targeted disease prevention, and homecare,
educating and recruiting entrepreneurial talents.
Profil adds value to EIT Health
Profil is a globally operating full service CRO uniquely positioned by its focus on clinical trials evaluating drugs and devices for people living with obesity, diabetes and cardiometabolic disorders. We have been involved in developing nearly all major anti-diabetic compounds and devices in the market today. As the only CRO within the consortium we will generate additional value to EIT Health by sharing our uniquely integrated in-house expertise in medical technology and device development, medical and nutritional sciences, data management and statistics, regulatory affairs, complex (EU) project management, business creation, and education. When using and expanding our people data base containing real-life and medical data of potential trial participants we stay in regular contact with currently more than 22,000 people representing main target groups of planned EIT Health activities. Based on our large clinical research unit connected to a fully GMP certified pharmacy we are prepared for the assessment of new innovations in metabolic health and person-centred disease management.
New innovations in the diabetes market: adding value to patients and health care systems
These days new products and services targeting the health (care) market should add value to both patients life and sustainability of health care in order to have a chance to become economically successful. When contributing to EIT Health content development Profil used a combined life- and disease course approach to setting out a roadmap for strong innovations in diabetes. That means: innovations in health promotion, diabetes prevention, and diabetes management are going to be aligned with peoples' socio-cultural and socio-economic background as well as biological signatures, functional capabilities, and self-perception of health-related quality of life (Figure 1).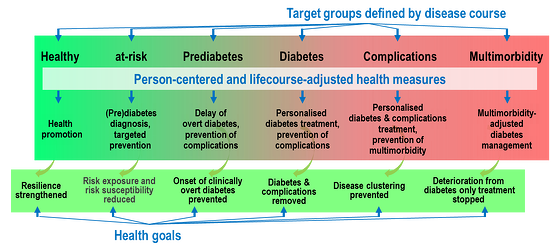 Figure 1: Definition of target groups and corresponding health goals by the course of diabetes. Life-course characteristics add another dimension of personalisation to the specification of target groups and health goals and to the design of corresponding products and services.
Innovators in diabetes should fully acknowledge the wide spectrum of heterogenous risk factors and conditions, the importance of timing and duration of risk exposure and interventions, the impact of pathogenetic signatures far before glycemic criteria for (pre)diabetes are met, and the diversity of individual (pre)diabetes courses. In people at older age musculoskeletal and cognitive integrity as well as functional capabilities are considered to deserve special attention. This, together with the large opportunities given by the high modifyability of risk exposure, the potential reversibility of early pathogenic transitions, and the important role of diabetes self-management sets the framework for implementing innovative products and services in diabetes-related key market segments, in early collaboration with relevant stakeholders including patients. This also sets the framework for continuous advancements in Profil's integrated service portfolio in the field of clinical contract research.
About the European Institute of Innovation and Technology (EIT)
The EIT is an independent body of the European Union set up in 2008 to spur innovation and entrepreneurship across Europe to overcome some of its greatest challenges. It brings together leading higher education institutions, research labs and companies to form dynamic cross-border partnerships – Knowledge and Innovation Communities, KICs - that develop innovative products and services, start new companies, and train a new generation of entrepreneur
About Knowledge and Innovation Communities (KIC)
A KIC is a highly autonomous partnership of top-class higher education institutions, research organizations, companies and other stakeholders in the innovation process that tackles societal challenges through the development of products, services and processes and also by nurturing innovative, entrepreneurial people. A KIC connects excellence-driven innovation hubs, the co-location centres, with a view to becoming leading centres of excellence and competing and collaborating with other innovation hubs across the world.