From fitness trackers and health apps to sophisticated sensors and software that support clinical decision, wearables are reshaping the delivery of health care. The use of wearables allows patients to keep track and take control of their own health and can offer primary care professionals with day-to-day insights of patients' health conditions, allowing early diagnosis and interventions to take place even outside of traditional care facilities. Wearables allow the collection of real-world data in everyday life settings and can be especially useful to enable a precision medicine approach and optimize treatment of chronic diseases [1].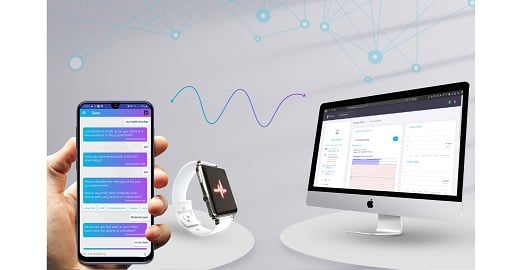 Figure by Julia Hoxha (Zana Technologies GmbH)
The value of real-world data and real-world evidence
Wearables may not only reshape the delivery of health care, these devices are also transforming the design and outcomes of clinical research. The value of clinical trials to evaluate safety and efficacy of a drug is undeniable. However, even evidence obtained in randomized controlled trials, the gold standard for clinical development, might fail to mirror drug performance in real-life settings.
This gap [2] between drug efficacy and effectiveness is an inherent result of clinical trial design. People enrolled in clinical trials tend to be younger, from a higher socioeconomic status and with less comorbidities. Clinical trials are carried in controlled environments and follow extensive protocols with high levels of treatment adherence monitoring. These circumstances are not replicated in natural settings where patients tend to be older, carry one or more comorbidities and seldom visit health clinics to assess treatment accuracy and disease progression.
Real-world data (RWD) is therefore needed in clinical trials to help minimize the gap between drug performance in a controlled environment and in real-world settings. RWD and Real-world evidence (RWE) are already commonly accepted by FDA to support post-marketing studies. The most common source of RWD is electronic health records but the use of wearables has increased over time.
The development of cutting edge wearables brings a new dimension to real-world data collection and can optimize clinical trials design and reduce the costs of drug development. The use of wearables to gather RWD can rationalise clinical trials processes, allow early-decision to drop or to continue a drug development and improve cost-effectiveness. It also allows for a more patient-centric approach, decreasing the burden of regular clinic visits while keeping high levels of trial and medicine adherence monitoring.
Are wearables fit-for-use in the context of clinical trials?
However, it is still unclear if consumer-grade wearables are suitable to assess endpoints in clinical trials. Among main concerns are data extraction and processing. It can be particularly overwhelming to manage the substantial amount of data generated by wearables. The data collection process from wearables differs from traditional process of collecting data and includes several layers of raw data and derivatives with no disclosure of processing algorithms applied before the data was logged or shared. This elaborated structure and the lack of transparency of data processing algorithms raise questions about data originator, source data, which sets of data are required to maintain an audit trail [3] and which data should be reported as a final result.
Lack of data standardization might also jeopardize data processing and its integration into clinical trials platforms. If multiple devices are used, the different ways these devices communicate and how to extract the data can be also viewed as a constraint. Common communication solutions and a single data collection platform could increase the usability of wearables.
Industry, academy, regulatory agencies and international organisations are already addressing these limitations. Big technology companies [4] and prestigious academic institutions [5] have already developed highly secure cloud-based platforms that use artificial intelligence and machine learning technologies to improve the quality of the evidence obtained and speed up drug development. Moreover, the Innovative Medicines Initiative promotes the multi-disciplinary Trials@Home Centre of Excellence [6] which is specifically dedicated to developing and piloting standards and tools for the operationalisation of remote decentralised clinical trials in Europe.
In December 2018 FDA created a Framework [7] for its RWE Program to discuss how to incorporate RWE in drug development. FDA's RWE Program covers hybrid and pragmatic clinical trials and observational studies and it evaluates the potential use of RWE to support labelling changes, to add comparative effectiveness or safety information to already approved drugs.
Within the framework, FDA expects to address if the real-world data generated by these trials are fit for purpose and if the trial design meets FDA regulatory requirements. It also aims to identify data standardization problems and work to improve FDA systems to accommodate the use of real-word data and evidence.
Pioneer trials with wearables
Despite current limitations, the increased use of wearables in clinical trials seems a natural process in an ever more tech-savvy world. Currently, there are 49 interventional studies in patients with type 2 diabetes using wearables registered at clinicaltrials.gov, of which 39 are using consumer-grader wearables. Additionally, a digital health survey [8] findings revealed that 97% of interviewees will intensify the use of health technologies in their trials during next years and an Intel research estimated that 70% of clinical trials [9] will use wearables by 2025.
Janssen Pharmaceuticals is one of the trendsetters in this field and is currently carrying out two pioneer trials using wearables. The first, HEARTLINE [10], launched in January 2019, is a randomized virtual clinical trial developed in collaboration with Apple. It aims to evaluate if the combine use of Apple Watch and an app from J&J can accelerate the diagnosis and improve health outcomes of patients with atrial fibrillation.
The second trial, CHIEF_HF [11] was announced in November 2019 and it aims to evaluate the effectiveness of canagliflozin in patients with heart failure with or without type 2 diabetes. The nine month trial follows a broad patient approach: trial participants don't need to visit clinical trial facilities and will have access to trial results after the study has finished. The randomized, double-blind, decentralized, placebo-controlled interventional study uses apps and smartphones to log patient information, wearables to track physical activity, AI to analyse RWE and canagliflozin to treat heart failure, all targeting the assessment of improvement in quality of life.
It is still to be seen if the data generated by both trials will meet regulatory requirements. If that is the case, these trials could revolutionize clinical trial design and methodology.
Conclusion
It is clear that real-world evidence should offer the most realistic picture of drugs long-term safety and provide doctors with quality inputs in how to deliver tailored therapy to patients. Wearables capacity of generating a continuous flow of real-world data, combined with machine learning data analysis can offer unique insights about drugs risks and benefits. Their use can enhance clinical trial outcomes and therapeutic interventions, especially in the field of chronic diseases.
Industry collaboration with academia, regulatory agencies and patient advocacy groups could help tackling current limitations of wearables in clinical trials. The goal for wearables in clinical trials is to generate high quality fit-for-purpose RWE, which can be used to facilitate regulatory approval, clearance and labelling changes for therapeutic options.
With the first pioneer trials using wearables for the assessment of trial endpoints on their way, it is just a matter of time until wearables will be fully integrated into pivotal clinical trials and transform clinical research.