The path for the development of new drugs and medicinal products can have many roadblocks ahead. These difficulties, especially at the beginning of developing a new drug, can have drastic consequences for further planning and, above all, the set timelines. One of the major problems we, here at Profil, often hear about from sponsors is the recruitment of subjects for their clinical trials.
The quick recruitment of clinical studies according to agreed-on timelines is an important puzzle piece for every new medicinal product investigated. Delays in development and approval of medicinal agents will not only prolong the time and expand the costs until a substance reaches the market, it will also cut off the time the product is on the market until its patent expires. These opportunity costs of missed time on the market are many times higher than the costs of premium quality patient recruitment.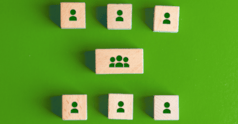 Key Factors
To ensure fast recruitment and keeping important timelines, it is important to have a well-structured recruitment plan. This plan is associated with a lot of work and time and requires the harmonic interaction of several factors. This blog post covers the different factors and how they align with each other in an ideal setting.
Develop and maintain your database
A very important component and the basis for recruiting trial participants is a large and up-to-date database. This database should contain a lot of demographic information like age, height and weight, ethnicity, and medical data, such as medical history, concomitant medication and laboratory data of each and every subject. Due to the specialization in the field of diabetes, obesity and NASH, Profil has the best database in the world for patients with these predispositions with more than 25,000 registered individuals. This database not only contains subjects of Caucasian ethnicity, but also includes, for example, many subjects of Japanese and Chinese origin.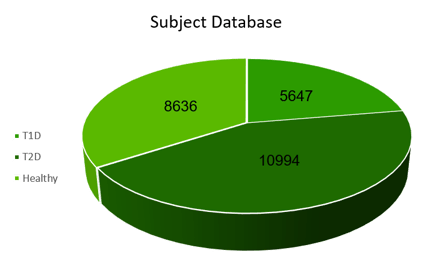 Figure 2 - Profil's subject database (as of 21.03.2022).
To keep this big database effective requires intensive maintenance. Thus, not only new subjects should be added to the database, but subjects who have been inactive for a longer period of time or subjects who can no longer be contacted should be removed from the database regularly. At Profil we delete thousands of subjects per year from the database in order to keep the quality high. Furthermore, every time new information about each individual subject is available, this data should be added to the patients profile as well. This meticulous maintenance is crucial to identify suitable patients quickly in relation to study specific inclusion and exclusion criteria even before they attend the screening visit. Thereby, the screening failure rate can be reduced in a huge manner.
Happy subjects might return
Another important factor to ensure speedy recruitment is patient satisfaction. Every patient who participates in a clinical study should feel in good medical hands during the entire time of the trial. At Profil the subjects' safety and the understanding of the subjects' needs are a central factor to keep the patients feeling safe and willing to participate in our clinical trials. After a completed study, every patient who participated in the trial has the chance to judge different aspects of Profil's services with a survey. In this way they can give feedback, which helps to improve service for the trial participants even more. On Google Profil is rated with 4.7 out of 5 stars by our study volunteers (as of 29th March 2022). Such great satisfaction also makes people willing to participate in more upcoming trials in the future.
In addition to the fact that subjects participate in more than one study, the high satisfaction and the patients' trust in the medical staff can also lead to significant lower withdrawal and drop-out rates. Compared to values from other CROs you can find in the literature, Profil has a much lower withdrawal and drop-out rate.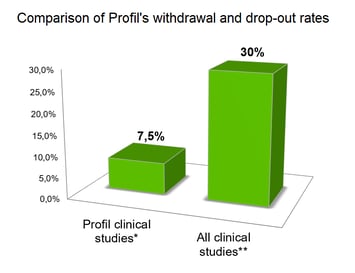 Figure 3 – Withdrawal and Drop-out rates of Profil and values from the literature.
Drop-outs and withdrawals of subjects, especially towards the end of a study, can postpone the finalization of a study immensely. Thus, a lower withdrawal and drop-out rate lead to a significantly higher chance of meeting the timelines.
Hard work pays off
The interaction of all these factors enables a high recruitment speed. The data from the database clinicaltrials.gov can be used to describe how quickly Profil can recruit phase I and phase II studies with T1DM or T2DM: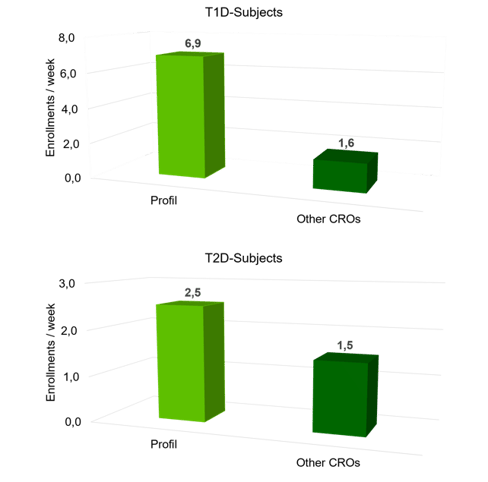 Figure 4 - Comparison of Profil's patient recruitment speed with other CROs worldwide.
For this comparison only monocentric studies with adult T1DM or T2DM populations exclusively were taken into account. The duration for one subject (regarded as last subject) was deducted from the total duration of the study. This time was taken as the recruitment time for each study. The ratio of the number of subjects enrolled and the recruitment time equals the recruitment speed.
With 6.9 subjects/week enrolled Profil sets the benchmark for the recruitment of patients with type-1 diabetes. Also for patients with type-2 diabetes, Profil recruits 66% faster than the average of all CROs taken into account.
All in all, the ability to provide fast and reliable clinical trial recruitment takes time and hard work. You will need a proven strategy and a detailed plan that you must stick to. This will enable you to steer clear of potential roadblocks on the way to the market.
*Average withdrawal plus drop-out rates at Profil of all subjects randomized into studies between 2014 and 2018. **https://www.fiercebiotech.com/cro/sanofi-launches-new-virtual-trials-offering-science-37.
Read more about our expertise in testing medical technology: Insulin pump development and design, artificial pancreas study and the AP@home project, glucose monitoring.