Profil continues the successful series of scientific online seminars. On My 19th, 2020 we will air our free online seminar on insulin biosimilars. The session is presented by Dr. Tim Heise, Lead Scientist and Chairman of the Board of Directors at Profil.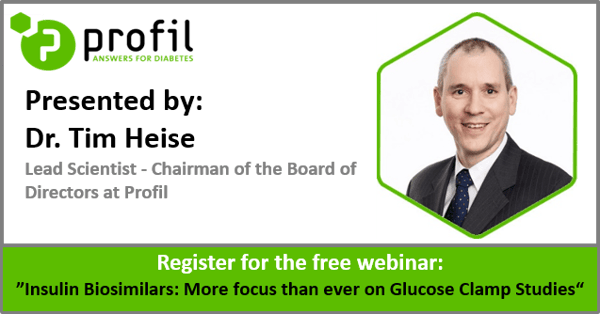 Why should you watch the online seminar?
Our expert will talk about insulin biosimilars: More focus than ever on Glucose Clamp Studies. While watching the online seminar you will benefit by learning about recent updates in the regulatory framework for biosimilar insulins as well as the design of clinically development programs and glucose clamp studies to achieve approval of biosimilar insulins in important markets like China, Europa, Japan and the USA.
What is the online seminar about?
Here is the online seminar's synopsis:
Several biosimilar insulins have become available in both Europe and the USA. Further developments are underway as the patent protection of several available insulins are nearing expiration.
The aim of biosimilar insulin development is to demonstrate similarity to existing insulins. In contrast to generics which are believed to be chemically identical to their reference product, biologics such as insulin will always show slight differences to their available counterparts, e.g. due to different starting materials (host cells, tissues, etc.) and differences in the manufacturing processes. Regulatory guidelines were developed, in particular from the European and the US agencies, to lead applicants through the various requirements for the demonstration of biosimilarity.
The online seminar will explain the consequences of these guidelines for clinical development programs of biosimilar insulins. It will specifically address recent updates that put less focus on immunogenicity studies and thereby strengthen the importance of providing clear evidence for pharmacodynamic and pharmacokinetic bioequivalence in phase 1 studies. These studies usually use the euglycemic hyperinsulinemic glucose clamp technique, so that it is unsurprising that Profil with its unique experience in (automated) glucose clamp studies have been involved in numerous developments of biosimilar insulins. Based on this vast experience the online seminar will explain important aspects for the design and conduct of glucose clamp studies for biosimilar insulins. In particular, we will discuss the importance of achieving high glucose clamp quality to achieve bioequivalence and thereby fulfill the requirements for the approval of biosimilar insulins in Europe and in the US, but also in important Asian markets such as China and Japan.
Interested in the online seminar?
If you are interested in our upcoming online seminar, don't wait to register for this online seminar as the available slots are limited. And don't worry if the date doesn't suit you. You will be able to watch a recording of the online seminar afterwards. To register now you can either follow this link or click on the button below.
Feel free to browse our archive of scientific online seminars to watch our previous recordings.