On the 2nd of August 2021 EMA published the start of the countdown to go-live for the Clinical Trials Information System (CTIS) (1). The countdown comprises 6 months and will end on 31 January 2022. As the application of the Clinical Trials Regulation depended on the confirmation of functionality of the clinical trial EU portal and database (one of the key components of CTIS) this confirmation has been long awaited. After announcing the CTR on 16 June 2014 the expectation was that CTIS would be available in December 2015. However, due to technical difficulties the "portal's go-live date" was delayed several times over the past years, but was now confirmed on 31 July 2021.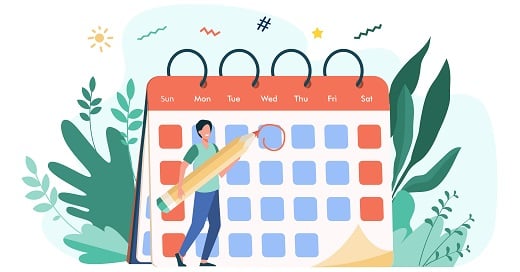 Fig. 1
Applicable timelines for the next years
The following timelines will apply over the next years as the CTR foresees a three-year transition period:
Until 31 January 2023:


applicants can choose whether submitting their application to start a clinical trial according to the current system (Clinical Trials Directive) or according to the Clinical Trials Regulations
From 31 January 2023 onward:


submission according to the CTR becomes mandatory
By 31 January 2025:


all ongoing trials approved under the current Clinical Trials Directive will need to transition to the new Regulation and to CTIS
CTIS Training and Support plan
EMA has published a training and support plan for the next two years, most of them are divided into several modules, which has been presented in a webinar by EMA on 29 Jul 2021 (2):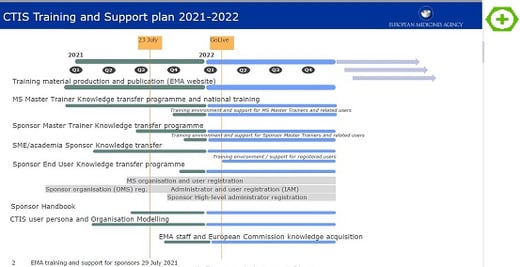 Reference: EMA
The training programme consisting of 24 training modules (18 already published) is available here (external Link to EMA webiste) and shall cover the full lifecycle of clinical trial submission, authorisation and supervision. The training programme webpage will be updated in the future and more training material will be made available. A guide to CTIS Training Material Catalogue is already available (download PDF file). Furthermore, a special handbook for sponsors has been published by EMA where sponsors can get the information they need to get ready for the use of CTIS here (PDF file).
(2): Westerholm. EMA training and support for sponsors. Clinical Trials Information System (CTIS) Webinar: EMA; 2021.
Fig 1 reference: <a href="https://www.freepik.com/vectors/calendar">Calendar vector created by pch.vector - www.freepik.com</a>