Dear all,
It is my great honour and pride to present the Profil Science Report 2018. Altogether, Profil's scientific experts published 29 scientific publications (cumulated impact factor of > 150) and 56 scientific presentations at international meetings in 2018. The wide variety of topics reflects the versatility of our scientists and our expertise in many areas of metabolic research. Our publications cover our main focus areas of diabetes technology and pharmacology, but you will also find papers on the metabolic effects of drugs treating hypertension and heart failure, and on more broader topics such as digital health and value-based healthcare.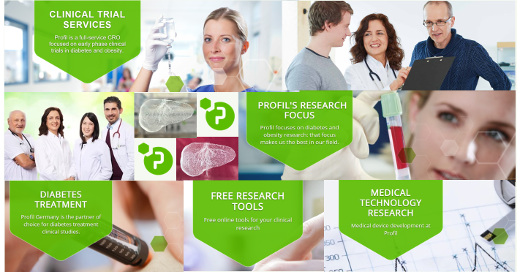 It is certainly unusual for a non-academic institution to play such an active role in scientific publications. The "publish or perish" verdict often used to describe the pressure in academia for rapid publications does not apply to Profil – the career of our scientists is not dependent on scientific publications. Nevertheless, we do feel that we have a major obligation of publishing our research in order to make our small contribution to scientific progress and ultimately to a better treatment of people with diabetes.
A drug is a substance which, if injected into a rabbit, produces a paper.
Otto Loewi (1873-1961)
In contrast to Otto Loewi's quote above, we think that a (novel) drug does (or at least has the potential to do) much more than producing a paper when injected into a (human) rabbit. We always hope that the drugs and technology we investigate might eventually help to further improve or facilitate diabetes treatment. However, to fully understand a novel drug's or technology's potential, further input and research will be necessary. Our papers and presentations are therefore an important way for us to communicate with the many scientists around the world. We really would like to get their feedback on our findings and to inspire them and us to further investigations. As Fuller Albright, one of the pioneers in nutrition and metabolic research, once put it in the conclusion of one of his publications "In any case, as usual, a lot more work is necessary". We are proud that our research not only contributes to a (slightly) better understanding of diabetes therapy, but also triggers "a lot more work" from our group and many others.
Scientific research is always teamwork, and many have contributed to the listed publications and the research behind them. Therefore, let me conclude with a word of gratitude: We are indebted to all our sponsors that rely on our expertise and knowledge to properly design, conduct and analyse their studies. I am very grateful to the whole Profil-team that works hard every day to achieve (and publish) highest quality research. And, last, but not least, I would like to thank Prof. Freimut Schliess for compiling our scientific achievements in yet another beautiful Science Report.
Foremost, however, I would like to express my sincere gratitude to all the participants in our study, healthy people and people with diabetes. Without their trust and their commitment our work would not be possible.
Now, we invite you to read our Science Report by clicking here.
Yours sincerely,
Dr. Tim Heise