Free Online Seminar on novel pathways was a success
Yesterday our second scientific online seminar in our diabetes online seminar series was aired successfully. Professor Dr. Thomas Forst presented and gave a review on molecular pathways involved in physiological as well as pathological processes in the body that lead to diabetes. He walked the audience through various approaches in diabetes medication development with a focus on how to test the action of novel compounds using different types of glucose clamps.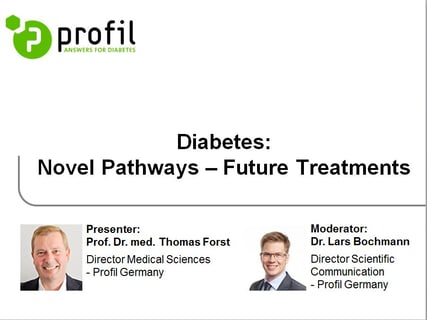 Profil Germany thus continues to spread the scientific expertise that is the heart of the company. We are proud to have such high calibre experts on board. This online seminar was particularly interesting for experts in the field to get a consolidated overview of known diabetes pathways and to increase their understanding on what experiments can be carried out in humans to move forward a particular drug development. It became clear that the glucose clamp technique is an absolute must for such studies.
Glucose Clamps in the clinical development of diabetes medication
Understanding the importance and the possibilities of glucose clamping is key to any good development in this area. Profil Germany is hosting the third online seminar in September 2015 with a focus on glucose clamps. The CEO of Profil Germany, Dr. Tim Heise, will present this online seminar. Registration for this event is now open. Follow this link to register or find out more.
Watch out for future online seminars that will be held by external, non-Profil, scientists as we move on with our online seminar series.