Chronological Milestones of the CTR
The 'Clinical Trials Regulation' (CTR) came into force on 27 May 2014 on condition that there was an EU-wide portal prepared, audited and found to be functional for the submission, review and approval of clinical trials in the European Union. However, it took quite a while to get the message "Portal ready to use". As described in the diagram below the final date of this publication was July 2021, meaning that the portal (CTIS = Clinical Trials Information System) did not go live until 31 Jan 2022.

Milestones of the CTR
Based on the presentation of Dr. Stefan Strasser (BASG, Austria) during DIA 2021.
1. What happened in Germany after 31 Jan 2022?
In Germany, the German Drug Law (Arzneimittelgesetz = AMG) was revised in 2021 and the German GCP Ordinance (GCP-V), as well as the Clinical Trial Directive (CTD) were no longer applicable (except for ongoing trials in the transition period, which ends on 31 Jan 2025). BfArM (Bundesinstitut für Arzneimittel und Medizinprodukte) as well as PEI (Paul-Ehrlich-Institut) and Ethics Committees were engaged very early in the implementation of the CTR on a national basis. As the Competent Authorities (CA) in Germany, BfArM and PEI are responsible for the submitted clinical trials in CTIS and have to provide a response to the applicant. In this response two parts are addressed: Part I => Scientific Assessment and Part II => Ethical Considerations. To include the assessment of Part II provided by the responsible Ethics Committee of the respective trial in Germany, both parties have agreed to distribute clinical trial applications (conducted in Germany) among the 37 registered Ethics Committees according to a so-called "Geschäftsverteilungsplan" (business allocation plan). This plan is published on the BfArM website here.
2. Applications
In general, documents for a clinical trial can be submitted via CTIS (will be described in more detail in Module II) in English or German language. Specifically documents handed out to the participants, a summary of the protocol and labels are submitted in the local language.
Before this change, considerable effort might be expected when submitting multinational clinical trials in Europe, i.e. within the European Union (EU) and the European Economic Area (EEA). In this case, one Member State will be the reporting Member State (rMS) proposed by the Sponsor of the respective trial. Other Member States where the clinical trial shall take place are Member States concerned (MSc). Therefore, there will be only ONE submission for a clinical trial planned to be conducted in several Member States, and the Sponsor will get ONE authorisation for a clinical trial in Europe.
Timelines of Part I - Scientific Assessment
Based on BfArM Ringvorelsung, Prof. Dr. T. Sudhop, 19.10.2021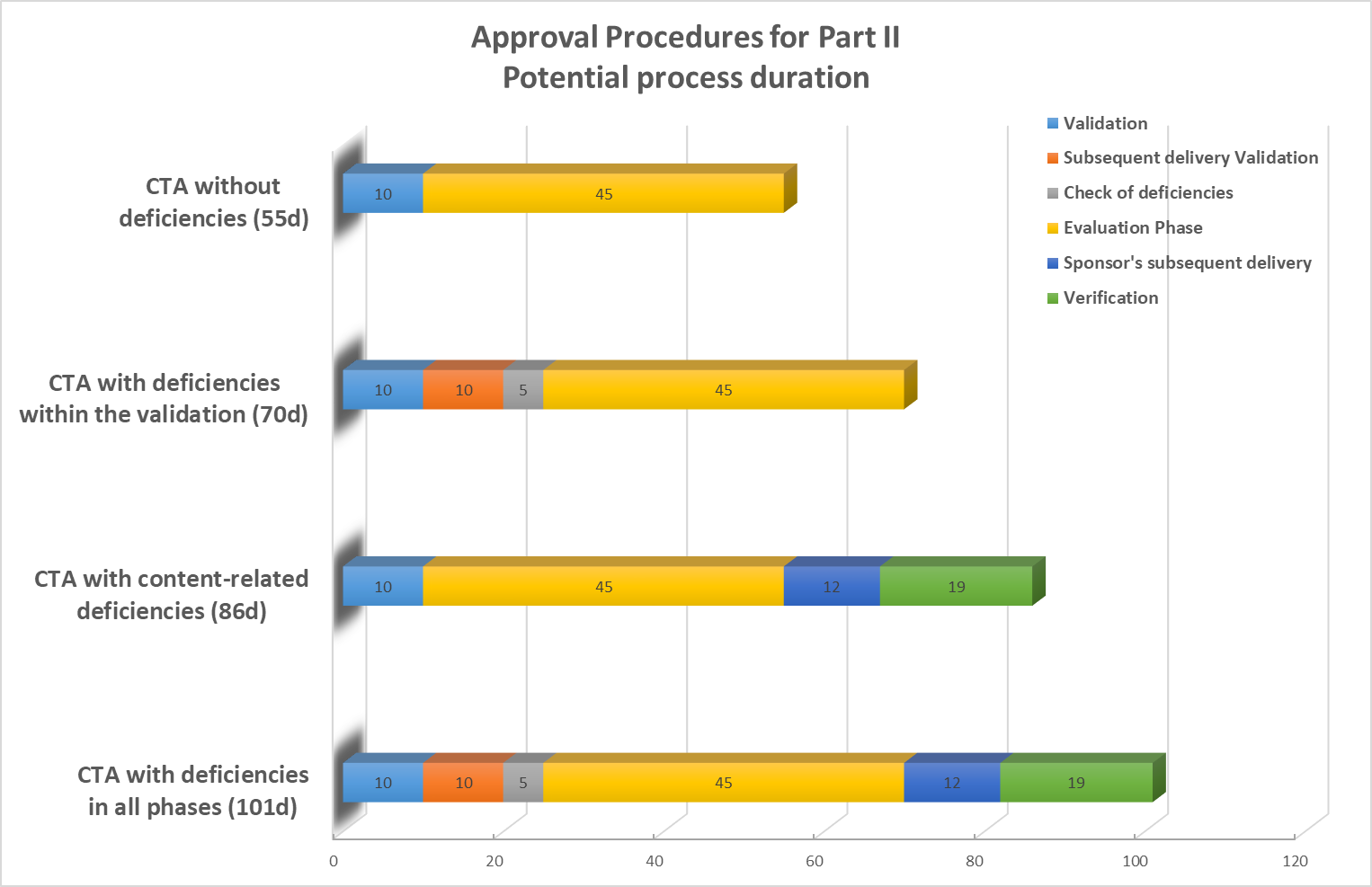 Timelines of Part II - Ethical Considerations
Based on BfArM Ringvorlesung, Prof. Dr. T. Sudhop, 19.10.2021
Read more about our expertise in testing medical technology: Insulin pump development and design, artificial pancreas study and the AP@home project, glucose monitoring.