We are happy to announce that our successful series of scientific online seminars continues. On June 21st, 2022 at 4 PM CEST we will air our next complimentary online seminar. The session is presented by Profil's CEO Sascha Heckermann: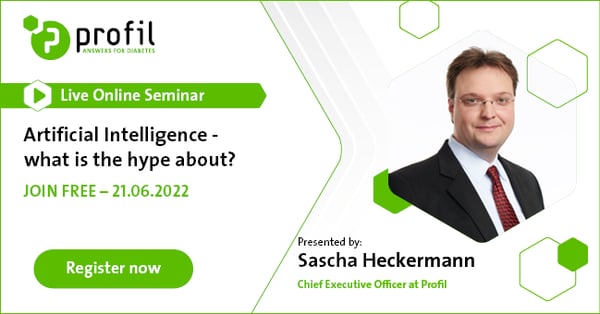 Why should you watch the online seminar?
Artificial intelligence (AI) offers a great potential for almost every industry. Sophisticated neural networks can automate processes and save you a lot of time, money and other resources. In this online seminar Sascha Heckermann will bring the general concepts of neural networks closer to you and highlights its potenital for clinical research.
What is the online seminar about?
In recent years, you have probably heard and read about artificial intelligence wherever you have gone. Many software solution providers now promise some kind of AI feature - but what does this really mean? Has software really become intelligent? Or is this only old wine in new bottles?
In this online seminar you will get valuable insights about AI, machine learning and especially deep learning. Sascha Heckermann will demonstrate how neural networks work, what they can be used for and where their biggest advantages are. At the same time he will highlight the limitations and you will learn about which promises you should be skeptical. And even though neural networks are pure mathematics, this will be done in a visual, step-by-step approach using KNIME so that everybody can understand (and even reproduce at home).
All this will be demonstrated using an example neural network that can read handwriting.
We will close by summarizing and highlighting the potential use and limitations of AI in clinical research and the medical field in general.
Who should attend this online seminar?
Everybody who is interested in the basics of AI, machine learning and deep learning as well as its application in modern research should join this online seminar to learn about the chances of AI.

If you are interested in participating in this online seminar, we welcome you to register today by clicking the button below.