Profil continues the successful series of scientific webinars. On May 8th, 2019 we will air our free webinar on Diagnosis of NAFLD. The session is presented by Prof. Dr. Andreas Erhardt, Chief Physician at Petrus Hospital in Wuppertal, Germany.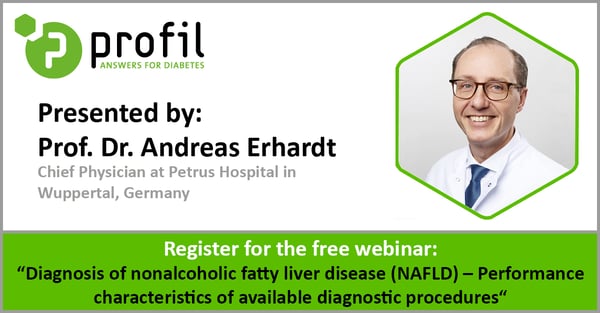 Why should you watch the webinar?
This session is presented by Prof. Dr. Andreas Erhardt. He will talk about the diagnosis of nonalcoholic fatty liver disease. While watching the webinar you will benefit by learning about the key essentials of NAFLD and NASH, the different kinds of diagnostic methods and techniques available including their strengths and limitations and the interpretation of clinical trial data on available diagnostic procedures including future perspectives.
What is the webinar about?
Here is the webinar's synopsis:
Nonalcoholic fatty liver disease (NAFLD) is the most common cause of liver disease worldwide (prevalence estimates ranging from 25% to 45% in most studies), increasing in parallel with that of obesity and diabetes.
In the US, about one-third (100 million adults) of the population is affected by NAFLD, and 5% by nonalcoholic steatohepatitis (NASH), respectively.
Patients with NAFLD overall, and those with NASH in particular, are at increased risk of mortality from liver disease (13%), and more commonly from cardiovascular disease (25%) and malignancy (28%) [Rinella ME, Jama 2015; 313: 2263-2273].
Diagnosis of NAFLD and NASH comprises a portfolio of procedures, including e.g. laboratory values, quantitative ultrasound parameters, fatty liver index, biomarker panels, transient elastography, or magnetic resonance elastography, as well as liver biopsy.
The webinar will shed light on the Pros and Cons of each method, thus enabling both physicians to choose the adequate set of diagnostic procedures for a patient with NAFLD or NASH, and support those in the planning phase for future clinical trials on NAFLD/NASH.
Interested in the webinar?
If you are interested in our upcoming webinar, don't wait to register for this webinar as the available slots are limited. And don't worry if the date doesn't suit you. You will be able to watch a recording of the webinar afterwards. To register now you can either follow this link or click on the button below.
Feel free to browse our archive of scientific webinars to watch our previous recordings.