Profil continues the successful series of scientific webinars. On March 5th, 2019 we will air our webinar on "Understanding the results of glucose clamp studies". The session is presented by Dr. Tim Heise, Lead Scientist and Chairman of the Board of Directors at Profil.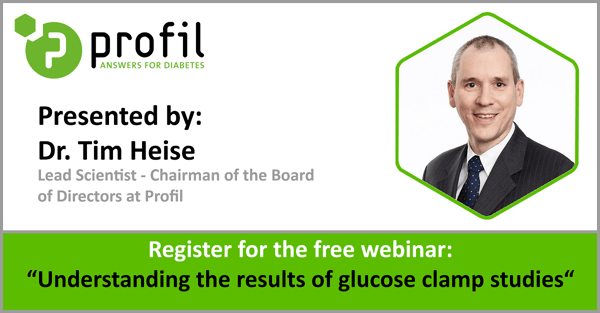 Why should you watch the webinar?
This session is presented by Dr. Tim Heise. He will talk about glucose clamp studies and how to understand its results. While watching the webinar you will benefit by learning how to ameliorate glucose clamp quality and understand its impact on the results.
What is the webinar about?
Here is the

webinar's synopsis:
Glucose clamp studies are the gold standard for the assessment of pharmacodynamic (PD) characteristics of blood-glucose lowering agents, in particular novel insulins and insulin biosimilars. In a glucose clamp the blood-glucose lowering effect of e.g. a novel insulin is antagonised by means of a variable glucose infusion of glucose, so that blood glucose concentrations are "clamped" at a pre-defined target level. If (and only, if) blood glucose concentrations are kept close to target, the amount of glucose infused (i.e., the glucose infusion rate GIR) is a good indicator of the PD effect.
However, most publications only report GIR-values, but do not show blood glucose data or report clamp quality parameters such as blood glucose variability or the mean deviation from target level. This webinar will show how poor clamp quality might impact the report GIR-results and will demonstrate how we at Profil perpetually try to further ameliorate glucose clamp quality, in particular through improved algorithms for calculation of the optimal GIR.
Still, many physicians and scientists find it difficult to understand the outcome of glucose clamp studies as GIR is not easily translatable into blood glucose values. Furthermore, some outcome parameters of clamp studies such as onset of action or duration of action are not fully in line with clinical experience of when insulins start or stop working. The webinar will explain how these parameters are derived and why they are dependent on clamp design and clamp quality.
Finally, the webinar will shed light on the different PD parameters describing insulin variability which has been a matter of some confusion and controversial discussions since conflicting results were reported for some basal insulins.
Interested in the webinar?
If you are interested in our upcoming webinar, don't wait to register for this webinar as the available slots are limited. And don't worry if the date doesn't suit you. You will be able to watch a recording of the webinar afterwards. To register now you can either follow this link or click on the button below.
Feel free to browse our archive of scientific webinars to watch our previous recordings.